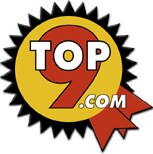 Top9.com - banner page
This page contains banners available for public use. Webmasters should feel free to download and display appropriate banners as resource links on their sites. The page is divided into two main parts.

The first part of this page contains banners that can be used by anyone. The first section contains general banners about TOP9.com, in a number of sizes and styles. The second section contains small banners linked to the nine "TOP 99" sections. The third section features small banners for the TOP 9 in each of the 14 main sections (see our "Category TOP 9" listing.).

The second part of this page contains banners that are only available for use to sites appearing in our TOP 9 rankings. Our "Surfers Choice" logo can be used by any site which appears in the TOP 99 or TOP 9 rankings. The "We're #1" banner can only be used by those sites which appear as the #1 ranked site within their category.

A final section contains miscellaneous banners which are publicly available to anyone.

All banners may be used free of charge. Banners can either remain on the TOP9.com servers or be downloaded and hosted by individual sites. Banners are not allowed to be altered or changed in any way. Banners should only be used when and where appropriate, and users agree to the conditions presented here. If you have any questions or comments about our banner policy please contact the editors. We do request that anyone using a banner notify the editors. Thank you for your interest in TOP9.com, and feel free to contact us with your banner needs and comments.